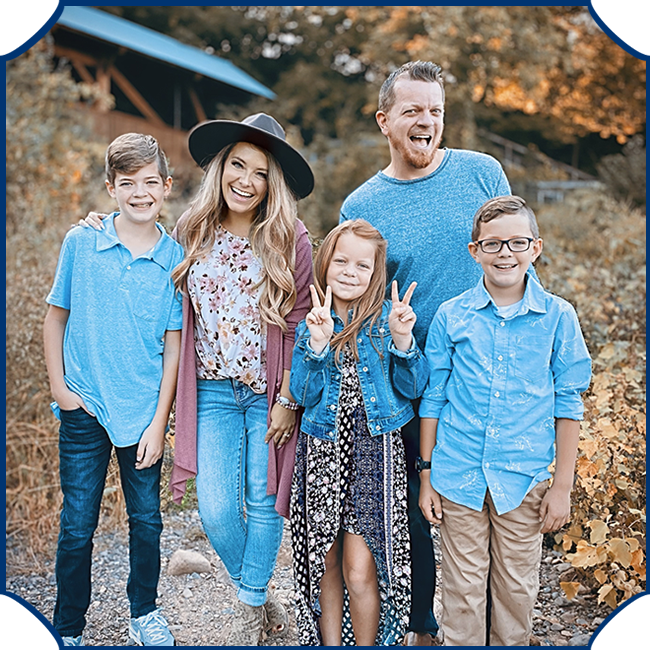 Welcome to Resort to Style!
We are Erica & James - owners of the most amazing online boutique! We tend to be pretty funny, laid back, occasionally a hot mess, and 100% genuine. Life is a whirlwind when trying to juggle owning a small business with raising our 3 sweet kiddos and 2 fluffy doodles, but we've been at it since 2015 and absolutely love what we do!
Let's see... we are pretty obsessed with iced coffee and can often be found drinking it all hours of the day and night. We also love summer, bbq's, traveling and spending time with family. James loves to fish - Erica loves to get her nails done - so we make a great team... haha!
When we started this business, we had no idea what an incredible community that would be built as a result and we also didn't realize that community would be our favorite part! Some of our shoppers have become our best friends, and many of our shoppers have become each other's best friends - for real! We highly recommend joining us on a LIVE show or at least checking out our Facebook group to see this community in action - it is truly the most confidence building place on the web!
One last thing you should know… we LOVE supporting small businesses! Prior to owning Resort To Style, we didn't fully understand the importance of shopping small. Now that we are on the other side - we can tell you first hand how impactful it is to our communities, both local and afar. Not only do your orders make a huge difference in our lives and our team here at RTS, but just about every item we bring to you comes from another small business - which means our little boutique is making a big difference in so many lives.

If you made it this far, you are now THE BEST! Thanks for taking a quick minute to learn a bit more about Resort To Style and if there is anything you need (regarding shopping, of course) - just ask!